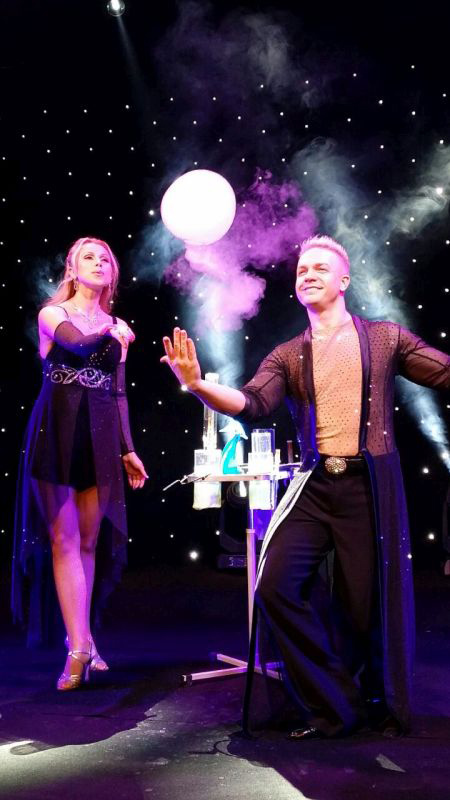 3X the Book of Records of Russia Holders represent to Your attention unforgettable show program
«Bubble Fantasy Show» Sergey and Svetlana Chuyko.
It is the only PROFESSIONAL and the best bubble show in Russia, which for more than 15 years is a sign of quality for all customers.
Sergey and Svetlana Chuyko — famous performers around the world, participated in many TV projects, presentations, and events of well-famous companies, based on the amazing author's formula, they created the bubble show "Bubble Fantasy".
One of the interesting features of the show is that the viewer can easily become a direct participant of the show. And wherever you were — in the bright rain of small, iridescent bubbles or sparkling inside a giant bubble — impressions received from the show will not be forgotten for a long time. And a huge spot kicks bubbles-tunnels will simply amaze your imagination.
Sergey and Svetlana imbued with magic, mystery, dynamics, expression, seriousness and fun at the same time, the excellent direction, choreography, complex tricks and interaction with the audience. To feel it — this show is a must see! Each performance is a well — defined plot and compositional setting. The stage is literally filled with bubbles of various shapes and sizes. Manipulation of huge and giant bubbles, building complex compositions, and shapes. Usual eye since childhood soap bubbles just come alive in the hands of a magical pair. And the brightness of a large number of tricks and magic tricks give the colored rays of illumination.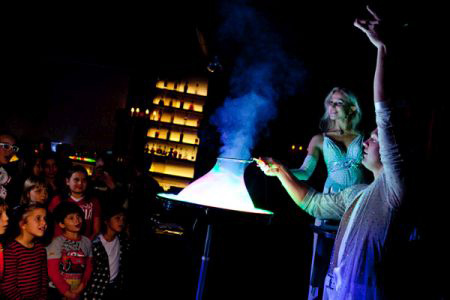 No need to fear for the health of children as it is the only bubble show Bubble Fantasy uses a solution from natural ingredients, which is completely hypoallergenic and contains a special oil aloe Vera. So getting it on the skin, the eye is completely harmless, but when hit, even on white clothes leaves no residue when drying. To create it, Sergey had to relearn chemistry and physics, but now soap bubbles a couple of wizards brighter, stronger and more beautiful than any bubbles.
Show of Sergey and Svetlana Chuyko — is not just the performance of actors of an original genre. This fully finished, combined, integrated, world-class shows. Artists plastic, beautiful, impressive, moving, fine vocal work. Skills honed to incredible nuances. Every gesture, every movement of the hands creates a firework of colors and a celebration of weightlessness. In soap bubbles and spheres can be placed a variety of objects and get them without damaging the integrity of the structures.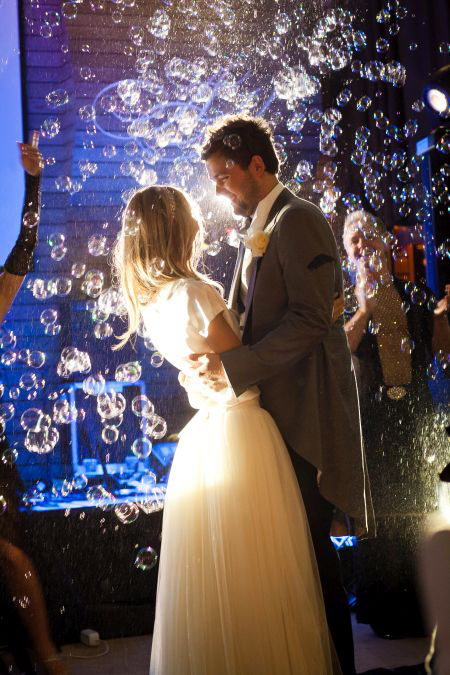 Sergey and Svetlana Chuyko several times was entered in the Russian Book of Records(first, they blew an 11-meter bubble, and then created 5 spheres in each other, and after some time broke his record by creating a field of 6 bubbles), honored with the highest circus awards the Grand Prix in Monte Carlo. The Duo was a finalist in the TV Show Moment of Glory on the First channel Russia where they put in a giant soap bubble Garik Martirosyan and Nikolai Baskov.
Only here you can see such a miracle of physics, square bubbles, bubbles in one another, smoke bubble, giant hearts — the diversity of shapes and sizes of bubbles flash their splendor in front of a grateful and admiring audience. And a giant bubble will fit not only one person, but a couple of kissing newlyweds, over which suddenly goes snowy fairy rain from soap bubbles – is an exclusive special effect show Bubble Fantasy !
The true professionals Sergey and Svetlana Chuyko joined in his speech several genres — dance, magic tricks, bubbles and lots of special effects. Once saw this view, each viewer, whether child or adult, will receive unforgettable emotions and amazing experience. This representation is simply a must see with your own eyes, after all, what unfolds before the audience cannot be described in words. Those who were lucky enough to see this show bubbles with your own eyes you know how extraordinary beauty of the spectacle unfolding before the audience.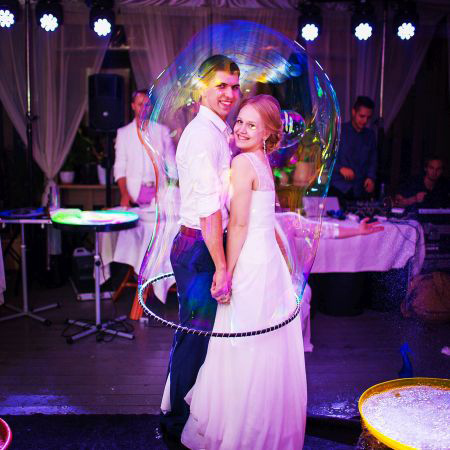 Delicate subjects created by hands of the artist, not repeated. This is a beautiful original show not just for your romantic wedding or special anniversary, but also as a fun show for a kid's birthday party or posh and exclusive show for a presentation or an interactive show with a master class for corporate.
Lovely plastic, choreography artists, great dynamic music and charismatic performances are the components of a world-class show. A memorable mini-stories, great lighting and specials. effects, bubbles from the generator of soap bubbles and created the bare hands of the artist, like the work of Michelangelo, leave an amazing mark in the memory of all who saw it.
Invite a tale for their holiday, and the tale will remain in your heart!